Vararam - VR-B2 (C5 Corvette LS1/LS6)
Vararam - VR-B2 (C5 Corvette LS1/LS6)
Description:
The B2 system for the C-5 Corvette has evolved several times over the years for added performance and ease of filter maintenance. In the latest evolution,of this record setting system we have made advancements for both Quality and ease of installation. Our customers have asked for it and we have delivered. Here is just some of what we have changed:

The Upper Air box
We have retooled the upper air box completely, The filter flange area has been increased to enclose the new cotton gauze filter properly, The seating radius had been altered to lower the box quarter inch and allow for more uniform compression across the filter surface area. We have added a perimeter gasket around the filter, encapsulating the filter creating an air tight seal every time, so NO leakage! The box material has been changed to more impact absorbent material.
The VR-B2 features up to 40 HP throughout the RPM range
Specially designed water trough system helps dissipate any incoming water
Increases throttle response
Increases gas mileage 1-3 MPG
Increases acceleration
No cutting or drilling
Comes with VR Super Street filter
OEM Look and you get to keep your fog lights!!!
Collections
Best Sellers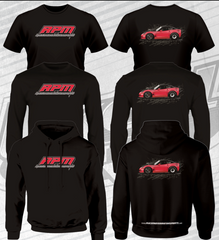 Red "Race Proven Motorsports" emblem on the front. Red RPM C6Z06 Co...
All Bestsellers