About Us
Welcome to Race Proven Motorsports, your number one source for all things LSx.  We're dedicated to giving you the very best products, with a focus on customer service, dependability and performance.

Founded in 2005 by Fran Schatz, Race Proven Motorsports has come a long way from its beginnings in a one bay garage in Claymont, DE. Fran graduated from the acclaimed School of Automotive Machinists (SAM) in Houston, Texas in 2004.  His passion was for all things LSx drove him to open the best shop in town.  We now service customers all over the world.  
Before every project is started, vehicles are loaded onto our state-of-the-art DynoJet 424XLC2 with LINX chassis dynamometer in order to acquire baseline horsepower and torque readings.  After completion of each project, final custom calibration tuning is completed as well.  We are thrilled to be a part of your vehicle's goals.  No matter how large or small they may be, Race Proven Motorsports can help you achieve them

If you have any questions or comments, please don't hesitate to contact us.
Collections
Best Sellers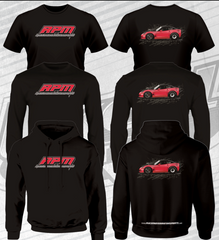 Red "Race Proven Motorsports" emblem on the front. Red RPM C6Z06 Co...
All Bestsellers