RPM LS Cam Package (Parts Only)
RPM LS Cam Package (Parts Only)
Description:
RPM Custom Camshaft Package (Parts Only) - Cam Package options for LS2, L76, L77, LS3, L99, LS7 & LSA
Includes RPM Custom Grind Cam, Brian Tooley Racing Dual Valve Spring Kit,  Brian Tooley Racing Hardened Pushrods, 160* Thermostat, GM LS Timing Chain, GM Water Pump Gaskets, GM Crank Pulley Bolt and GM Crank Pulley Seal and NGK Spark Plugs
Melling High Volume Oil Pump  Add $175.00
GM 3 Bolt Cam Gear w/ GM Bolts GM LS2 Timing Chain Tensioner  Add $75.00
 Must provide Make, model and year of vehicle during check out.
Collections
Best Sellers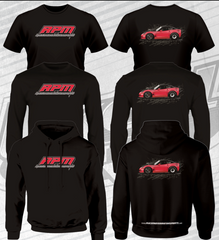 Red "Race Proven Motorsports" emblem on the front. Red RPM C6Z06 Co...
All Bestsellers