ProCharger - Corvette C7 Z06 (LT4)
ProCharger - Corvette C7 Z06 (LT4)
Description:
ProCharger was the first supercharger manufacturer to design and release an air-to-air intercooled supercharger system for the C7 Corvette Stingray, but we didn't stop there. ProCharger now has a robust centrifugal supercharger system offering for Chevrolet's ultimate supercar–the 2015-16 C7 Z06 Corvette.
GM laid the foundation for big power with the C7 Z06 LT4 engine's forged internals, relatively low compression, and factory-supercharger system, and now with the addition of a ProCharger supercharger you can bolt-on an extra 115+ HP over stock with an intercooled P-1SC-1 head unit at the 10 psi factory boost level and pump gas, with no permanent modifications to the vehicle. At 13 psi, while still running pump gas and factory timing, 825 HP is at your fingertips.
Thanks to the super-efficient boost and power created by the ProCharger centrifugal design, with a larger supercharger head unit you can achieve power levels upwards of 1,600 HP!
Our new C7 Z06 system is based on the proven bracket design and dedicated belt-drive unique to the C7 Stingray LT1 platform, but replaces the Z06's LT4 factory roots-style supercharger with a direct-replacement sheet metal intake manifold. This new manifold was designed to optimize the airflow and power potential, but still fit comfortably under the factory hood on both the LT1 and LT4 Corvette engines.
Collections
Best Sellers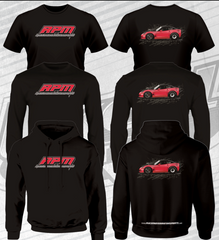 Red "Race Proven Motorsports" emblem on the front. Red RPM C6Z06 Co...
All Bestsellers