BMR 16-17 6th Gen Camaro Rear Cradle Lockout Bushing Kit - Black
BMR 16-17 6th Gen Camaro Rear Cradle Lockout Bushing Kit - Black
Description:
Reduce Wheelhop, bushing deflection, and cradle movement on your 2016-newer Chevrolet Camaro with a Cradle Bushing Lockout Kit from BMR Suspension. Built from CNC-machines Delrin, laser-cut stainless steel, and billet aluminum, BMR?s BK063 Cradle Bushing Lockout Kit is designed to greatly reduce cradle bushing deflection, which is one of the biggest causes of wheelhop. BMR?s BK063?s Delrin upper bushing inserts are CNC-machined and specifically designed to fill the voids in the factory bushings (front and rear). The additional hollow space is filled with CNC-aluminum ?bullet? inserts. The kit is finished with laser-cut stainless steel washers that capture the lower Delrin inserts and prevent up and down movement. By filling the voids in the bushings, deflection is greatly reduced, allowing more power and torque to be transferred to the ground instead of being absorbed by the chassis. BMR Suspension designed the BK063 Cradle Bushing Lockout Kit for street performance, drag race, and handling applications. This 100% bolt-on kit use existing boltholes and hardware, allowing for easy installation with simple hand tools. Once installed, the Cradle Bushing Lockout Kit minimized bushing and cradle deflection with nearly no change in NVH. (During BMR?s testing, no change in NVH was observed without accompanying modifications.) BMR Suspension?s BK063 Cradle Bushing Lockout Kit is the only part you need to affordably and effectively lessen wheelhop, bushing deflection, and cradle movement. Throughout testing, BMR has seen about an 80%-90% reduction in fore/aft and lateral cradle bushing deflection. A car with no other mods and stock tires that isn?t driven overly hard is going to see a 90% or higher reduction, while a more race oriented Camaros with sticky tires will see slightly less of a reduction. Launching the test vehicle at over 7,000 rpm on drag radials, BMR saw about an 80% reduction in bushing deflection.
This Part Fits:
| Year | Make | Model | Submodel |
| --- | --- | --- | --- |
| 2017-2020 | Chevrolet | Camaro | LS |
| 2016-2020 | Chevrolet | Camaro | LT |
| 2016-2020 | Chevrolet | Camaro | SS |
| 2017-2020 | Chevrolet | Camaro | ZL1 |
Collections
Best Sellers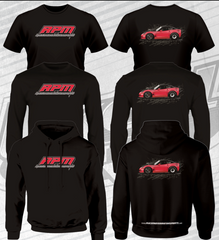 Red "Race Proven Motorsports" emblem on the front. Red RPM C6Z06 Co...
All Bestsellers