BMR 16-17 6th Gen Camaro Rear Cradle Bushing Kit (Polyurethane) - Red
BMR 16-17 6th Gen Camaro Rear Cradle Bushing Kit (Polyurethane) - Red
Description:
Significantly reduce rear cradle movement in your Sixth Gen Camaro with a Polyurethane Rear Cradle Bushing Kit from BMR Suspension. These bushings are made from low-deflection, 95-durometer polyurethane, which is known for its high stiffness, low friction and excellent stability. This product greatly reduces bushing deflection that occurs during acceleration, cornering, and braking with only moderate increases in NVH. Each bushing is designed to exact tolerances, which are designed by BMR. This allows for a perfect fit and increased performance for any driving style. The BMR Poly Rear Cradle Bushing Kit (BK061) greatly increases the rigidity and stability of the chassis to provide maximum control and consistency necessary for any form of competition or high performance street driving. Designed for street performance, drag race, and handling applications, BMR Suspension BK061 Poly Cradle Bushings are the perfect wheelhop solution for any Sixth Gen Camaro where NVH is not a concern. BMR?s Rear Cradle Bushings reduce cradle movement over the stock rubber bushings. The OE bushings are designed with air pockets and are made from soft rubber. These ?voids?, coupled with soft material produce excessive differential movement during normal and aggressive driving. BMR?s poly cradle bushings replace the entire OE rubber bushing, minimizing differential movement by replacing the soft rubber OE bushings with solid two-piece poly bushings. This reduces cradle movement, reducing wheelhop and increases handling stability, while giving you a much-improved overall feel in any performance driving situation. BMR Suspension?s BK061 Differential Busing Kit is available in red with zinc-coated hardware. Installation time is about 3-4 hours and may vary depending on stock bushing removal technique. Proudly made in the U.S.A.!
This Part Fits:
| Year | Make | Model | Submodel |
| --- | --- | --- | --- |
| 2017-2020 | Chevrolet | Camaro | LS |
| 2016-2020 | Chevrolet | Camaro | LT |
| 2016-2020 | Chevrolet | Camaro | SS |
| 2017-2020 | Chevrolet | Camaro | ZL1 |
Collections
Best Sellers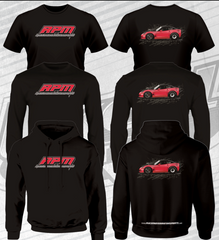 Red "Race Proven Motorsports" emblem on the front. Red RPM C6Z06 Co...
All Bestsellers