BMR 13-15 5th Gen Camaro Front & Rear Sway Bar Kit w/ Bushings - Red
BMR 13-15 5th Gen Camaro Front & Rear Sway Bar Kit w/ Bushings - Red
Description:
The two primary functions of sway bars are to control body roll and to determine the understeer or oversteer behavior of a vehicle. Stock sway bars have low torsional spring rates because they are manufactured from small diameter bar stock or tubing. BMR Suspension?s SB039 front and rear sway bar kit was designed by factoring in the vehicle weight, application, motion ratio, coil spring rate, and adjustability requirements. Manufactured from heavy-wall 29mm (front) and 32mm (rear) DOM tubing, the SB039 is cold formed to better resist torsional fatigue and retain its "memory" far longer than the hot-formed bars used by many competitors. The sway bar is CNC-formed for exact manufacturing tolerances and repeatable high quality. Thrust washers are welded to the bar to locate the sway bar bushing mounts. This is critical as it properly locates the sway bar and prevents lateral movement during hard cornering maneuvers. The sway bar mounts to the car using polyurethane bushings. These bushings are molded from 88-durometer, low-deflection, polyurethane, and are internally fluted to keeps grease in the bushing. The steel sway bar mounting brackets are reinforced to minimize deflection. The sway bar is 3-way adjustable to tune the amount of torsional spring rate and to determine the handling characteristics (understeer/oversteer) of the vehicle.
This Part Fits:
| Year | Make | Model | Submodel |
| --- | --- | --- | --- |
| 2013-2015 | Chevrolet | Camaro | LS |
| 2013-2015 | Chevrolet | Camaro | LT |
| 2013-2015 | Chevrolet | Camaro | SS |
| 2014-2015 | Chevrolet | Camaro | Z/28 |
| 2013-2015 | Chevrolet | Camaro | ZL1 |
Collections
Best Sellers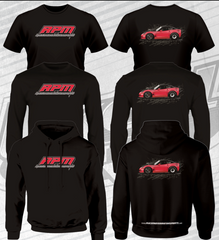 Red "Race Proven Motorsports" emblem on the front. Red RPM C6Z06 Co...
All Bestsellers