BMR 10-15 5th Gen Camaro V8 Lowering Spring Kit (Set Of 4) - Red
BMR 10-15 5th Gen Camaro V8 Lowering Spring Kit (Set Of 4) - Red
Description:
There is nothing like the aggressive look of a car with the right stance! Over time, stock springs sag, get rusty, and simply wear out. BMR Suspension believes the right springs go beyond looks?your 2010 - 2015 Camaro needs to perform, too! All BMR springs are manufactured from chrome silicon high-tensile spring wire, and are cold wound on a CNC coiling machine. The CNC coiling head can adjust the spring diameter in real time to ensure that every spring is exactly the same. This guarantees that your right spring matches your left spring. Every BMR spring is compressed solid at the factory, not once, but twice. This gives the spring its permanent set, and guarantees no sag. BMR springs are stress-relieved at 750 degrees F, ensuring most stresses induced during the winding process are eliminated. All springs are then shot-peened to eliminate residual surface stresses. Many spring manufacturers skip this step, but BMR insists on this operation as part of our spring manufacturing process. Every spring is computer tested as the last step?every spring, not just a sample from each batch. Each spring is loaded in the spring tester at the factory, then compressed and the CNC load cell measures the force for a variety of spring lengths. This allows BMR to offer a LIFETIME WARRANTY against spring sag.
This Part Fits:
| Year | Make | Model | Submodel |
| --- | --- | --- | --- |
| 2010-2015 | Chevrolet | Camaro | SS |
| 2014-2015 | Chevrolet | Camaro | Z/28 |
| 2012-2015 | Chevrolet | Camaro | ZL1 |
Collections
Best Sellers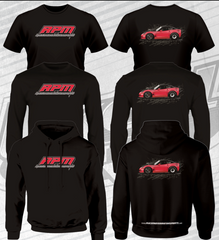 Red "Race Proven Motorsports" emblem on the front. Red RPM C6Z06 Co...
All Bestsellers