BMR 10-15 5th Gen Camaro Rear Cradle Pro Version Full Bushing Kit (Pol
BMR 10-15 5th Gen Camaro Rear Cradle Pro Version Full Bushing Kit (Polyurethane) - Red
Description:
Enhance the stability of your 2010 - 2015 Chevrolet Camaro by minimizing rear cradle movement with Rear Cradle Bushings from BMR Suspension. Polyurethane is a synthetic polymer that has many properties that make it far superior to OEM rubber bushings. Polyurethane deflects far less that soft rubber, and it doesn't breakdown from exposure to petroleum products, road salt, ozone, and other elements of the harsh undercar environment suspension bushings live in. BMR's polyurethane Rear Cradle Bushings drastically increase stability over the factory rubber bushings, by nearly eliminating the deflection seen in stock cradle bushings. BMR designed its polyurethane cradle bushings from 95-durometer polyurethane. This material offers huge reductions in deflection without excessive increases in NVH. Each bushing is manufactured to strict tolerances, using exact molds, which are designed by BMR. This allows for a perfect fit and increased performance for any driving style. BMR's Rear Cradle Bushings offer huge increases in performance over the stock rubber bushings. The OE bushings are designed with air pockets and are made from soft rubber. These ?voids?, coupled with soft material produce excessive cradle movement during aggressive maneuvering. This movement is one of the biggest contributors to wheel hop. BMR's polyurethane cradle bushings replace the entire OE rubber bushing. This eliminates almost all cradle movement, increases handling stability, and cornering ability, while giving you a much-improved overall feel in any performance driving situation. The reduction in cradle movement also drastically reduces wheel hop, caused by excessive bushing deflection. Designed for street performance, drag race, and handling applications, BMR Suspension BK024 Rear Cradle Bushings are the perfect solution for any Camaro being used for performance driving.
This Part Fits:
| Year | Make | Model | Submodel |
| --- | --- | --- | --- |
| 2010-2015 | Chevrolet | Camaro | LS |
| 2010-2015 | Chevrolet | Camaro | LT |
| 2010-2015 | Chevrolet | Camaro | SS |
| 2014-2015 | Chevrolet | Camaro | Z/28 |
| 2012-2015 | Chevrolet | Camaro | ZL1 |
Collections
Best Sellers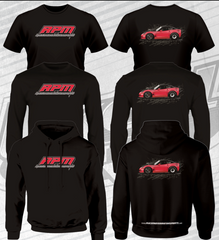 Red "Race Proven Motorsports" emblem on the front. Red RPM C6Z06 Co...
All Bestsellers