A&A - C6 Z06 Supercharger Kit (Polished)
A&A - C6 Z06 Supercharger Kit (Polished)
Description:
A&A 2005-2013 Corvette Supercharger Kit
Includes injectors and fuel system upgrade. Come's with 4.0" Pulley (Recommended for LS7)
The A&A Supercharger kit brings you dramatic increases in power while not degrading everyday drivability or highway gas mileage! The system utilizes a large blow off valve that remains open at cruise and light throttle. This, essentially, allows the supercharger to "freewheel" under normal conditions, reducing parasitic loss to less than that of an alternator.

A naturally aspirated engine would require higher compression, a very aggressive camshaft, high flow cylinder heads with heavy duty valvetrain, exhaust headers with free flowing exhaust, larger throttle body, high flow intake manifold, free flowing air filter housing and duct, etc. Most of these parts are NOT emissions legal. The price of these components alone is higher than a supercharger system. The labor to install these is also much higher. Then there are the inherent problems brought to the vehicle by such a build. A large camshaft all but ruins everyday drivability AND gas mileage. Driving in traffic becomes a very trying experience. A stick shift car will buck and surge and an automatic car will be hard to hold back because of the increased idle speed required. Low speed torque is reduced with an aggressive camshaft which will require lower differential gearing and a high speed stall torque converter (automatic cars) to make up for it. This further degrades drivability and gas mileage. With all the components required for a high performance naturally aspirated car, the degradation in drivability and gas mileage, the total inability of the vehicle to pass emissions tests and the added expenditure, the vehicle would STILL have up to 100HP less than a stock Corvette with one of our standard systems bolted on.

Average increase TO THE REAR WHEELS is approximately 175 RWHP! No other modification, in this price range, even comes close.
A&A SYSTEM ADVANTAGES OVER THE COMPETITION
Superior Belt Drive System
Belt wrap is the key to eliminating belt slip and our proprietary bracket system offers more belt wrap than any other system on the market.
Our bracket is CNC machined from 5/8" high quality 6061 aluminum plate and fly cut on both sides to assure absolute consistency in thickness. This is imperative for proper belt alignment.
Our brackets are constantly quality checked by assembling on our "mock up" engine and checking alignment with a laser aligner.
Superior Intercooler Design
Our intercooler design has evolved, through constant testing, into the most efficient intercooler system available for the C6 Corvette.
Our intercoolers rely on superior "air management" of the charge air as well as the external cooling airflow. Both are equally important and are often overlooked by the competition. With the limited space available in a Corvette, positioning of the intercooler is critical.
A large intercooler that is hidden behind the frame is not as efficient as a smaller intercooler that is exposed to full frontal airflow. Our intercooler is as large as any available but it's placement is the key to superior charge cooling. The entire core is exposed to the cooling air stream.
The top of the intercooler core is positioned right at the bottom of the frame. It is mounted forward so as not to allow air to flow over the top of the intercooler.
We have side panels and a larger bottom panel that seals up against the front fascia.
This gives us a "Ram Air" effect through our intercooler. No other manufacturer has spent as much time and resources on air flow management as A&A.
Looking through the grill opening on an A&A system will reveal the difference between our system and all others. Nothing but the core area of the intercooler is exposed to the incoming rush of cold air. The intercooler face in encompassed by our sheet metal enclosure and both tanks are completely hidden from view.
The area next to the intercooler is also closed in with aluminum panels assuring that any air that is fed around the sides of the intercooler is redirected back into the radiator. Again, this is something no other manufacturer has incorporated into their systems.
Other designs allow the upper portion of the intercooler core to be shrouded by the frame and allow air to travel over and around the intercooler. When looking through the grill opening on other systems, you see the lower tank and only a portion of the core. This is horribly inefficient!
The interior of our intercoolers differ from the competition also. We utilize directional vanes in the lower tank to direct charge air evenly across the intercooler core. This is an expensive but very important addition
Testing has shown that the incoming air charge will pack into the side opposite the inlet, rendering the near side almost useless.
Testing with an infrared thermometer showed large temperature differences at opposite ends of the intercooler. These special internal vanes assure the charge air is forced into the near side of the intercooler, increasing its cooling capacity considerably.
Superior Engine Cooling
Intercooler positioning is equally important in how it affects engine cooling. Many supercharger systems are plagued by overheating issues due to intercooler placement. Our intercooler is placed much further forward than any other design. This allows the fans to draw cooling air through the radiator and AC condenser without being shrouded by the intercooler.
Aesthetics
The A&A system is one of the best looking systems around.
Fit and finish is second to none. Our brackets, ductwork and the supercharger, itself, are all show polished.
Our top shroud fits perfectly and is powder coated satin black to compliment the polished components.
All the visible couplers are high quality silicone and our "T Band" clamps are polished stainless steel.
The entire system fits snuggly under your stock hood.
You'll be proud to show off your engine compartment with your A&A Supercharger system installed.
Top Quality Components
We utilize only the highest quality components in our systems.
Vortech head units are used exclusively. 
Highly efficient, hand welded, air to air intercoolers.
Large Turbosmart blowoff valve
Aluminum charge tubing for lighter weight
Silicone couplers
Stainless steel clamps
High capacity injectors
High capacity LPE fuel pump or Boost A Pump
Collections
Best Sellers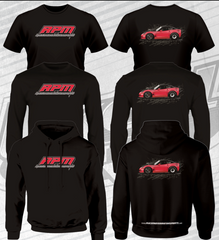 Red "Race Proven Motorsports" emblem on the front. Red RPM C6Z06 Co...
All Bestsellers