Corsa 20-22 CORVETTE C8 CAT BLANKETS (Fits cor16234)
Corsa 20-22 CORVETTE C8 CAT BLANKETS (Fits cor16234)
Description:
The C8 Corvette is an engineering marvel with its mid-engine configuration, eye catching body lines and incredible performance. Yet, with the mid-engine placement comes an abundance of heat. One area exposed to excessive exhaust heat is the catalytic converter. In stock form Chevrolet added a signficant amount of heat protection to the catalytic coverters to prevent them from distributing excessive heat to other sensitive engine components. With the option to upgrade from the stock catalyltic converters to RACE SPEC EPA Compliant High Flow Cats, CORSA Performance has designed Basalt lined Titanium infused catalytic converter heat blankets to protect the C8 engine from added heat distributed from the CORSA Performance High Flow Cats.
This Part Fits:
| Year | Make | Model | Submodel |
| --- | --- | --- | --- |
| 2020-2022 | Chevrolet | Corvette | Stingray |
Collections
Best Sellers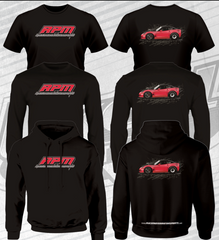 Red "Race Proven Motorsports" emblem on the front. Red RPM C6Z06 Co...
All Bestsellers